School of Medicine  Annual Enrollment 105 / Period of Attendance 6years
◆ Educational Philosophy
Approaching health and environments of working people through the eyes of medical science, occupational health physicians play extremely important roles in the 21st century
for several reasons, including their support for the development and revitalization of industry. The School of Medicine trains occupational health physicians with rich humanity that enables them to consider medical science more deeply and from wider perspectives in industrial society.
◆ Diploma Policy
The School of Medicine confers a graduation certificate in medical science on people who have a rich sense of humanity appropriate to the calling of an occupational health physician, who satisfy the following graduation requirements, and acquire the following medical abilities.
● Graduation Requirements
| | |
| --- | --- |
| 1 | To study at the university for the prescribed course terms or longer, to acquire the number of credits and course hours required for graduation, and to receive the course completion certificate. |
| 2 | To pass the basic comprehensive examination, OSCE and CBT, comprehensive examination, and graduation examination. |
● Abilities
| | |
| --- | --- |
| 1 | To acquire basic medical knowledge and the ability to solve problems as a physician. |
| 2 | To possess the willingness, medical knowledge and skills to be a leader in the field of occupational health medicine. |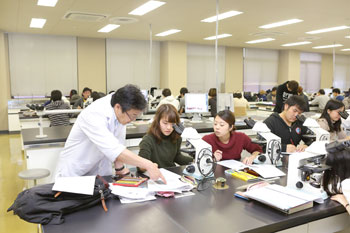 ◆ Curriculum Policy
The School of Medicine trains physicians with a rich sense of humanity through the following educational policy.
| | |
| --- | --- |
| 1 | The policy is consistent with the latest Model Core Curriculum in Undergraduate Medical Education in Japan. |
| 2 | The courses in Basic Sciences foster cultivated, highly ethical and humane students, and serve as a mediator between high-school education and university/medical education. |
| 3 | The courses in Basic Biomedical Sciences are designed to be closely related with each other as well as with courses in clinical medicine, and to provide students with basic expertise in medicine, and to foster the basic academic skills required to accommodate the ever-improving changes in the field of clinical medicine. |
| 4 | The courses in Clinical Medical Sciences provide students with a systematic understanding of diseases and conditions through clinical system lectures consistent to internal organs. Moreover, both bedside learning that covers every clinical department in the university hospital and participatory training in and outside of the university are offered to foster students' deeper understanding of basic medical knowledge, skills and reasoning ability. |
| 5 | The courses in "Occupational Medicine," which are the main feature of our university and which are performed systematically from the first year to the sixth year, offer students on-site training at plants or factories outside of the university under the direction of occupational health physicians, and enable students to qualify as an occupational health physician before the start of their initial clinical training. |
| 6 | Small classes to promote interactive education are actively implemented to foster student's ability to solve problems, to think logically, and to communicate with others. |
| 7 | To evaluate student's learning achievement in each grade, a basic comprehensive examination is conducted in the third year, OSCE and CBT in the fourth year, comprehensive examination 2 in the fifth year, and integrated lecture examination and comprehensive examination 1 and 2 in the sixth year. |